SCSA High Power Rifle (CMP) Matches
---
CMP Matches CANCELLED until further notice
Due to an accident last year Circle S was required to make some changes as a condition to renew their use permit.
There are new range covers that block shooters from aiming too high. On the rifle range these covers block shooting while standing (offhand). Laying prone or sitting on the ground is also prohibited because the new covers cannot be effective from those shooting positions.
All rifle shooting must now be done shooting from the benches, which doesn't work for our CMP matches.
---
Our High-Power Rifle Matches are held at Circle S Ranch in Marin County, on the 4th Sunday of each month, from April thru October, at 8 AM (except for June which is replaced by the D-Day Old War Horse Match). See our calendar page for specific dates & times.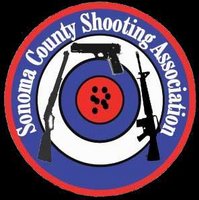 What is it?
This is a 50 round high-power rifle competition:
Unlimited sighter shots - 10 minutes
10 shots Offhand slow fire - 10 minutes
10 shots Sitting rapid fire - 60 seconds
10 shots Prone rapid fire - 70 seconds
20 shots Prone slow fire - 20 minutes (two targets)
We are a Civilian Marksmanship Program affiliated club (CMP #62265) and these matches meet the requirement of a CMP approved marksmanship activity for eligibility to purchase firearms thru the Civilian Marksmanship Program.
Sales Events for purchasing a rifle from the CMP.
Equipment:
These matches are oriented towards semi-automatic military rifles with iron sights, but bolt actions are welcome too (it's best to have stripper clips or detachable magazines for reloading).
The club has several M1 Garand Rifles available for use, call ahead if you want to use one.
We will be selling .30-06 ammo for use at the match only: $25/45 rounds or $20/35 rounds (subject to change). Call ahead if you need to buy ammo.
Fees:
For club members: (and non-club members at their first match)

$15 range fee to Circle S Ranch + $10 match fee = $25 total

For non-members: (after their first match)

$15 range fee to Circle S Ranch + $15 match fee = $30 total
Prizes & Scores:
We award certificates for first place in each catagory.
Photos from past matches:
Contact for more information:
---

Back to the SonomaShooting.org home page